Many Ty Beanie Babies have been added: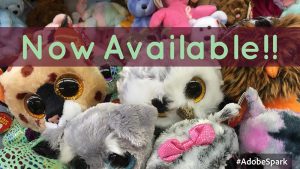 Many Ty Beanie Babies have been added to the website! While anyone who has visited the store, knows at some point we had to add the Ty Beanie Baby plush stuffed animal collectible toy to our website. Also there are Beanie Babies, Beanie Boos, Frizzys, and Pinkys to choose from. They aren't all on yet, as there are so many! So you can surely expect more to show up. Those cute little critters are everywhere! Stop by Song's Gift Nook or songsgiftnook.com to find the right unique gift for you!
They make great gifts for Birthdays, Valentine's Day, Mother's Day, Father's Day, Weddings, Halloween, or the Christmas holiday season.